WeChat Subscription Account Vs WeChat Service Account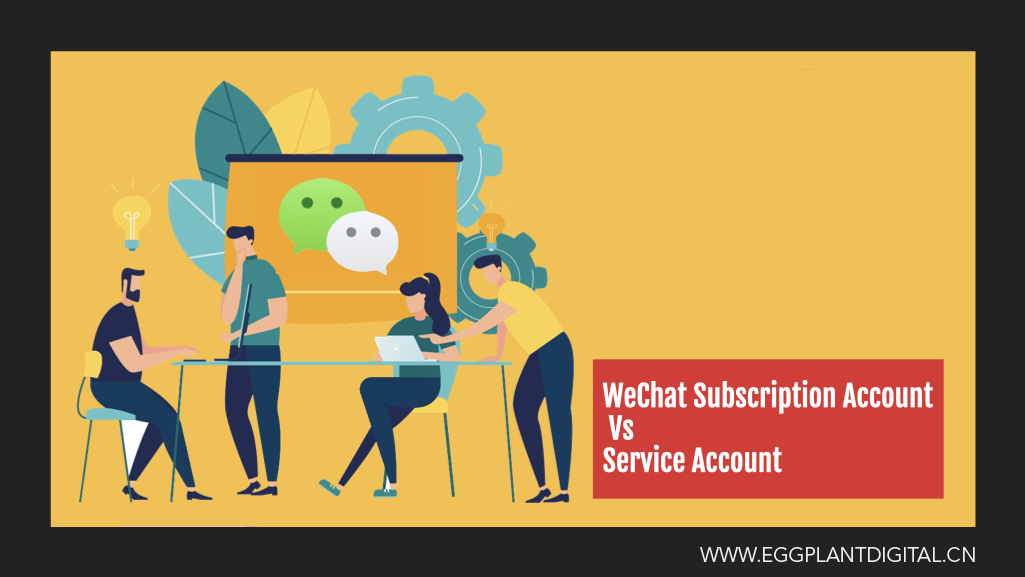 WeChat has been leading the social media scene in China in recent years and its popularity has piqued the interests of foreign businesses looking to increase their online presence in the local Chinese market. What are some of the marketing strategies that a business can deploy by means of a WeChat account? An official WeChat account allows businesses to successfully gather an audience, send them updates and news on the latest sales campaigns and redirect them to a website or e-commerce stores.
When registering for a WeChat account, corporate users can choose from a subscription account (订阅号) or service account(服务号). Each has its own advantages and caters to different specifications – which best suits the needs of your business?

WeChat Subscription Account
Individuals registering for a WeChat account can only select a subscription account. With a subscription account, users can send push messages once daily and only 1-6 articles can be published at each time. These messages will show up in users' subscription folders and no notifications will be sent.
A Chinese ID or a local business license is required for registration of a subscription account.
Subscriptions accounts are recommended for those who are looking to publish more as the frequency for publishing articles is higher. This will allow businesses to better retain customer interest and increase their communication and branding.

WeChat Service Account
Service accounts are highly visible as they appear alongside users' friends in the "Chat" page and any new content that is posted comes with push notification. However, with a service account, users are only allowed to post 4 messages monthly. With a service account, users have additional features available at their disposal including WeChat payment, voice recognition, geolocation, multiple QR codes which are handy for identifying traffic sources, URL shortening and connected objects.
The WeChat service account is most suitable for businesses that want to
focus on managing customer relationships and service-based tasks;
start e-commerce stores;
have full access to WeChat analytics
WeChat Subscription Account vs WeChat Service Account
Only 1-time daily publishing with a subscription account…
That may seem insufficient at first glance but limiting your post to only one a day will allow you to connect better with your followers in the long run. As such, subscription accounts are perfect for businesses that have content that needs to be published daily, such those in news media and influencers.
What do I get with a service account?
With a WeChat service account, you get many top-notch features such as API integration, CRM, e-commerce and customer service. You can utilise data collected from followers and use it for more targeted marketing. There is also a live chat feature that is available for use.
Who should opt for it?
Service accounts are great for large businesses that need to manage subscriber lists with a large following. Some examples include restaurant and hotel chains, fitness and spa chains, and airlines. You will be able to directly liaise with your customers and manage any enquiries or complaints through WeChat without having to engage the services of a 3rd party company.
In a nutshell, choose a Subscription Account if…
Your priority is to share informative and useful content with your followers regularly and consistently.
Owning the account is not of the utmost importance to you.
You have no issues with having to engage the services of a 3rd party company to set up the account.
Choose a Service Account if…
You want access to comprehensive analytics and e-commerce services for your business.
Managing customer relationships and offering quality customer service is key.
You would prefer to legally own your account.
Engaging the services of a 3rd party company in the setting up and maintenance of your WeChat account for your business is not feasible.
Registering for a WeChat account is simple enough but gaining followers and consistently pushing out relevant and informative content for your audience is what will help your brand gain a sizable foothold in the Chinese market. Let us help you with this – we are close at hand, just an email away!