Read about our successful cases for clients in ecommerce.
Website & photography for the famous "Little Blue Jar" by Blistex...
Background
Blistex is a family run brand in the business of developing and offering quality lip care products made in the USA. With products sold in over 80 countries and regions, they are the leading innovator in the lip care category. Eggplant Digital was chosen to design and build websites for the Blistex and Stridex brands, as well as provide hosting services, and organize a photo shoot with Chinese models using their products.
Web Design
Eggplant Digital to design, build and produce a localized website and content for the Blistex and Stridex brands. With a distributor in place, Blistex already had offline and online channels bringing in sales, to support this we created a localized website for the brand and products, leveraging the distributors stores on Tmall and JD.
Marketing
We then used PPC to build up the website traffic on local search engine Baidu, we also found local content creators to collate stories on video streaming platforms, and social e-commerce platforms of customers talking about and using the products. This massively increased consumer awareness of the brands, and this has had a measurable impact on increased sales in China.
Eggplant Digital also arranged Chinese models, photographer and studio to provide all the photography for the website and other marketing materials.
WeChat Marketing for top German petcare brand animonda...
Client
animonda Petcare
Services
Ecommerce
Industry
Retail
Web Address
www.animonda.cn
Background
For over 30 years, animonda Petcare has devoted themselves to the production of high-quality pet food for cats and dogs. With a product that is available in over 35 countries across the world, in 2018 animonda decided to start the journey to bring their products to China.
Solution
Eggplant Digital was chosen to support animonda in marketing activities whilst they prepare to launch their products. During the initial research phase, Eggplant Digital helped identify cat and dog breeders as the influential market for pet food and care products.
Since 2019 Eggplant Digital has created articles, and used promotion techniques to build an influential audience on animonda WeChat account. Alongside this we have implemented an authenticity solution so Chinese customers can check their canned pet food are officially from animonda's German factory.
Next Steps
The next step are to develop e-commerce services for the WeChat audience, using affiliate QR codes for cat and dog breeders to re-sell animonda products to their customer-base.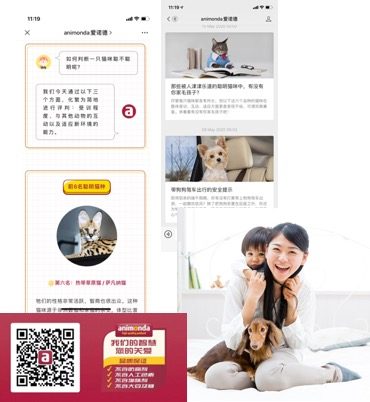 Digital strategy for China's first homegrown Whisky distillery brand...
Background
Eggplant Digital designed and built a professional, modern brand and e-commerce website that combined a real international look and feel, while retaining enough Chinese characteristics to ensure it appealed to local consumers.
Hosting
Our hosting and technology team architected a dual-hosting solution, with mirrored sites hosted in China (for local consumers) and Hong Kong (for the international audience). Using Aliyun cloud for China, and our own cloud servers in Hong Kong.
Marketing
Eggplant delivered the WeChat official account marketing platform and combined this with the WeChat payment platform. We also delivered all of the SEO for the entire site to ensure that maximum exposure was available for minimal investment.
Website design for startup, selling pollution masks...
Background
Cambridge Masks are respirators that use military grade filtration technology to filter out nearly 100% of particulate pollution, gases, as well as bacteria and viruses in a fashion friendly mask suitable for the whole family.
Results
Eggplant Digital worked with founder to create a startup website that launched the brand into China and the rest of the world. They have continued to grow fast, and now have offices in UK, Beijing and Hong Kong and a client list including schools, hospitals and embassies.
Ecommerce website for the #1 high-end manufacturer of air purifiers in the USA...
Client
Oransi
Services
Ecommerce
Industry
Retail
Web Address
www.oransi.cn
Background
Oransi is the high-end manufacturer of air purifiers from the USA. Oransi expanded to the Chinese market, giving the people here a clean indoor air environment and enhancing the quality of life.
Web Design
Eggplant Digital was hired to design, build and produce a localized website for the Oransi brand. This operates alongside their Tmall store, providing the product info, company backstory and sales and servicing center.
Results
Eggplant Digital designed a stunning website that captures the international brand, whilst being attractive to a local audience. The website continues to be a source of sales for the Tmall store, as well as give customers an easy reference for the brand story and customer service, and support sales enquiries for business to business transactions.
WeChat Store with affiliate management for products from New Zealand producers to Chinese consumers...
Client
Pure Kiwi
Services
Ecommerce
Industry
Retail
Background
Pure Kiwi is New Zealand startup providing fresh products, recipes and meals with NZ ingredients and spirit, tailored for a Chinese audience. Launching their supermarket products and restaurants in 2017, Eggplant Digital was chosen to provide digital marketing expertise for their website, WeChat Store and content marketing.
WeChat Store
Eggplant Digital worked closely with the founder of Pure Kiwi to create a WeChat store to sell their select group of specialised health products to a Chinese audience. Incorporating WeChat Pay, customer service, products search, categories, filters and an Affiliate Program, that allows customer to earn commission when referring other customers.
Launch Event
The brand, products and first cafe was launched in Tianjin in 2017, with support from local government and newspaper, magazine and TV media. The launch was a big success and helped bring the New Zealand products to the local customers.
Marketing
Eggplant Digital wrote and published content on the Pure Kiwi WeChat account to keep customers engaged with the brand and NZ backstory. Using fresh innovative content, we helped drive customers to the store and supported sales on WeChat and also for their distributor, in supermarkets and on Tmall.